"We rehearsed in Ron and Russ's garage and their mother brought us lemonade"
Before there was Sparks, there was Halfnelson. And before there was Halfnelson, there was the Urban Renewal Project.
The Urban Renewal Project was Ron and Russell Mael's first serious attempt at creating a band. An important member of the Urban Renewal Project was Ms. Ronna Frank. She played with Ron and Russell Mael from 1964-1967, providing percussive background and appearing on the one known URP recording -
Computer Girl
, composed by Russell Mael.
Today, Ms. Frank remains active in music as a composer for films and stage.
Ms. Frank's website
is a great resource to learn about her current projects, which she discusses a bit in our conversation. And
you can learn more about Urban Renewal Project here
.
I am grateful that Ms. Frank found some time to answer a few questions - and provide some fantastic pictures from the old days! I hope you enjoy our conversation.
Monte
: How did you meet Ron and Russell Mael?
Ronna
: I met Ron when I was in High School, through my then boyfriend who became my husband. They were both going to UCLA at the time. He was my ex-husband's best friend, and (Ron) was also his best man at our wedding in 1966.
Monte
: Can you talk a bit about the music?
Ronna
: We played at different venues around Los Angeles, mostly Rolling Stones pieces. At that time, Russ was just starting to write his own music. He wrote a lot of poetry, and I believe he and Ron then set those to music. Ron did not know how to play the piano, so at his request, I gave him some piano music to start learning. he was obviously a quick learner, and both were very creative.
We recorded one of Russ's songs, "
Computer Girl
," at a Hollywood recording studio. I don't remember which one. I sang back up on that and played the piano. But no drum.
Monte
: How did you become the drummer?
Ronna
: When we started as a band in 1964, we rehearsed in Ron and Russ's garage and their mother brought us lemonade. My ex-husband played the guitar (self taught) and I sang harmonies with Russ. We had a young (about 12 years old) drummer, but he couldn't go out to events because of his age. So I played the snare drum when we "toured Los Angeles."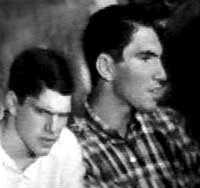 At that time we called ourselves the Urban Renewal Project and I sang, played a tambourine, and played a snare drum at the Battle of the Bands in Los Angeles. That was when another band pulled the plugs out on our equipment. I also sang vocal harmonies and backups when Russ sang.
Monte
: Were there songs that you particularly enjoyed playing?
Ronna
:
Green Onions
,
White Rabbit
, and
Satisfaction
are ones I remember.
Monte
: Did Ron and Russell show the personality characteristics with which they're associated today?
Ronna
: Definitely yes. They were both very original in the way they did everything musically, and especially the way they dressed.
Monte
: Who else was in the band?
Ronna
: My ex-husband, Fred Frank. Others joined us later, but I don't remember their names. It was fun, but in 1968 Fred was drafted in the Vitenam War, and we had to stop being part of the band.
Monte
: Did you keep up with them at all?
Ronna
: In 1973 I left the USA for London, where I worked and lived until 2000 when I moved back to the USA. Ron and Russ flew over to London in the early '70s, and I met them at the rehearsal studio where they were rehearsing and caught up with what they'd been doing. I stayed to listen to them for a couple of hours. After that I didn't see them until I returned to Los Angeles for a visit with friends in the late 1970s. They were then called "Sparks" and we went to see them play at a popular place on Sunset Strip. That's when I first saw them perform in the "costume" gear. Ron reminded me of Bela Lugosi.
My favorite song of theirs at that time was "This Town Ain't Big Enough For Both Of Us." After that, I completely lost touch with them and have not seen or spoken to them since. But I'm thrilled for their success!
Monte
: Can you tell us a little bit about what you are up to now?
Ronna
: I'm a composer of stage musicals and film, a member of ASCAP, and I am just finishing an 8 month long project, a five piece band arrangement for one of my musicals,
The Just So Stories
. That will be published shortly by my publishers, The Dramatic Publishing Company. This includes a CD.
Here's a couple cool pictures, with Ronna's wonderful commentary!
Ronna
: This photo was taken September 11, 1966 at my wedding (the date should have been a warning to me!). Ronnie is standing to the right behind my seated ex-husband (Fred Frank), wiping his brow. The Rabbi, by mistake, asked my ex if he would take "Ron Mael" to be his wife (he confused my name with his). It was very funny at the time!
Ronna:
This photo was taken a few years before that on a hayride with Fred and Ronnie's fraternity. You'll see a line pointing to Ronnie's face, and to mine. Only Fred's hand was visible.
Some pictures are from Xavier Lorente-Darracq's tremendous
Graphikdesigns website
, and are used by permission. If you want to learn the early history of Sparks, this is the first place to go.